Salam tuan/puan kepada Imam Al Bukhari telah kami sampaikan. Left Samarqand to Turkmenabat. No fuel supply in Samarqand. Utilized our emergency fuel. Another 380km to go. Pray for us. Tq
SMS di terima 12:58pm (waktu Malaysia) 31 Julai, 2010
EM1M juz clrd the Uzbek's border clearance. Nxt wil be Turkmenistan border. Hope everything running smoothly. Keep praying for us!
SMS di terima 7:51pm (waktu Malaysia) 31 Julai, 2010
Wohoo! It's took us juz 1.5 hours to clear 2 borders, Uzbek n Turkmenistan! Thank you very much to Wisma Putra n Malaysian Embassy in Tashkent! Great job done. SALUTE! Arvd Turkmenabat, Turkmenistan!
SMS di terima 9:55pm (waktu Malaysia) 31 Julai, 2010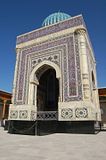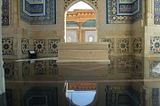 Pasukan EM1M dikawal ketat polis Turkmenistan